10 Aug

5 Reasons Why MMA Is A Lot Better Than Boxing

If the Floyd Mayweather-Manny Pacquiao dud of a fight left a bad taste on your mouth, you're not alone. It was supposed to be the fight of fights, a bout that has an anticipated impact so great it could very well rival that of "Rumble in the Jungle" or "The Thrilla in Manila". Instead, it was just an expensive snooze-fest all throughout.

On the other hand, watching MMA is a different experience. You get action all throughout (the ground game is just as exciting as a slugfest in my opinion) even from the preliminary fights and non-UFC shows.

I don't pay attention much about the "they are two different sports" argument mainly because when people watch sports, they want to be entertained. Heck, I could watch a bunch of kids stack cups right now and stay glued in my seat for the next two hours if that stuff do entertain me.

Having said that, both sport needs to entertain to capture the audience and KEEP performing that way, especially when fans shed their hard-earned money just to watch fighters beat the crap out of each other.

And with millions of people spending 100 bucks just to watch a sporting equivalent of Barney like PacMay, I may just as well buy myself another batch of six-packs. I'll just pray someone will come to save boxing sooner rather than later. I may disappoint myself, but that's how painfully boring boxing has gotten now.
Reason #1: Lots of Good Fighters Which Means Lots of Good Fights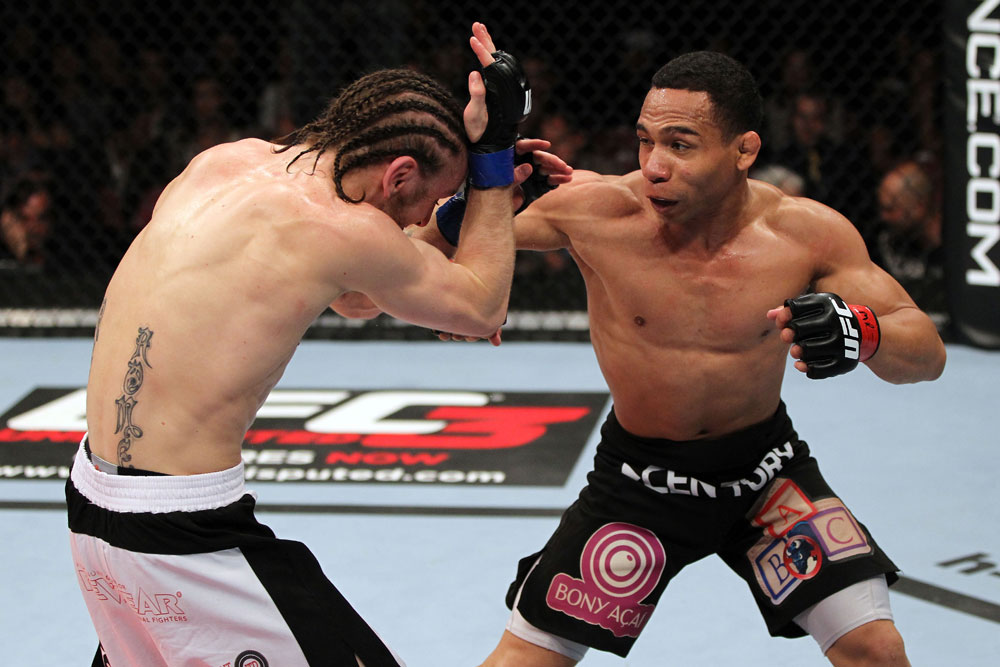 Most of the people in MMA and the UFC to be specific, not just look to win but win in spectacular fashion. That's why many of them train to suit their style in an action-packed, slugfesting environment to impress Dana White, the Fertittas, and the fans especially.
Even the casual MMA fans do not know the guy right there in the picture, the ever-exciting and ever-smiling flyweight John Dodson. Dodson is one of the elites in the 125-pound division and one of the guys that has a realistic chance of dethroning Demetrius Johnson. Same goes with Ovince St. Preux (LHW), Yoel Romero (MW), Jim Hettes (FW), and maybe 10-15 guys in EVERY division ready to step into the spotlight, perform, and deliver.
Boxing? Yeah, not so much. Julio Cesar Chavez, Jr. reached 40 wins simply by fighting cans and made millions out of it. And did we even talk about Floyd?
Reason #2: Consistency
Because MMA fighters know they have to sharpen each skill before ever stepping into the ring/Octagon/cage, you'll see a better, faster, stronger, fighter each and everytime. Yes, Father Time catches up with everyone, including this version of Lyoto Machida, but the droposs of the quality of fights in each fighter is not as big as in boxing.
Reason #3: Lesser Head Injuries
This is not to say MMA is worlds safer than boxing is but in a medical perspective, one well-placed shot to the jaw (and going lights out) is better than getting your brains repeatedly scrambled for 12 rounds. Just look at Muhammad Ali now or even Freddie Roach.
My heart bleeds for them.
Reason #4: Staredowns
In which sport do promotions and staredowns become a show in itself? Only in MMA.
Intimidating fighters abound and ready to fight anytime that's why in MMA, there literally is no boring moment. Guys like "Rampage" Jackson, Chuck Liddell, Wanderlei Silva, Fedor Emelianenko, and Mirko Cro Cop took on all comers in their prime and now that a new generation has come around, the "take no prisoners" attitude is still there, if not much stronger than ever before.
Boxing? I could think of Floyd Mayweather and weep.
Reason #5: More Drama
MMA has its fair share of dull cards but the majority of them do offer– not only entertaining fights– but dramatic come-from-behind wins than boxing. The Yoel Romero-Tim Kennedy middleweight bout is one of those and a slew of others which pretty much features Antonio Rodrigo Nogueira, Chris Leben, Anderson Silva (vs Lutter and Sonnen), and Frankie Edgar.
Boxing's lack of versatility and how it is scored makes it tough to come back. You can win the first seven rounds and run the next five and you'll still come up the winner.
That's too sad.
RELATED IN THE SKYBOX…
---
---
Just an average Joe that prides about the fact that he played basketball on all three of the biggest island groups in the Philippines. Enjoys eating and 70s music as much as the next guy, but thinks there isn't a more delightful thing in the world than learning. For comments, reactions, suggestions, let Jan Rey know below.
Latest posts by Jan Obguia (see all)