28 Dec

Five Awesome Fights Conor McGregor Could Take Next
A man full of quotable quotes, new UFC featherweight champion Conor McGregor has the entire promotion in his hands. That sounds like a stretch but nobody combines such slick fighting and trash-talking in a single person the way the MMA gods did with the brash Irishman.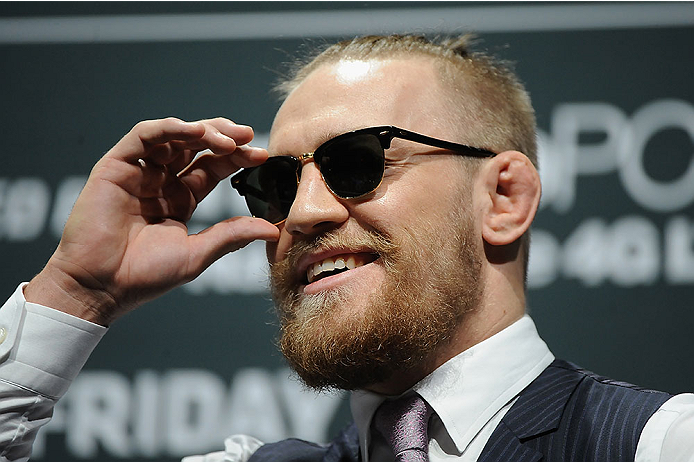 Although nobody, including Dana White, will admit it, McGregor has earned the right to fight whoever and whichever division he wants. That's one of the perks of having re-written the sport's record books all by yourself (and your motor mouth). White, like the businessman that he is, would gladly allow "The Notorious" to fight in two divisions, because, well, he is a money-making machine and the more he fights, the more cash he reels in.
Which are the ones that would make sense, both sylistically and financially, to take on the Notorious One? Here are five suggestions:
1. Nate Diaz
I know, I know. This one looks like giving Nate Diaz a free pass here (and it probably is), but a McGregor-Diaz matchup is a promoter's dream! Literally, Dana White can simply sit back, say nothing, and the two will probably sell 1 million PPVs just by talking smack.
Diaz, on his part, has been doing quite a job lobbying at a crack at the 145-pound champion.
"If we're going to see a fight that people want to see, it's going to be that fight with Conor McGregor," Diaz said. "We can do that (expletive) tonight. Whenever, next week."
"Now this guy Conor McGregor is coming back and he's doing all this big stuff, and everybody's calling him out, left and right," he said. "I'm not like these guys begging for no fight. We're talking about big fights. He wants a big fight — we can fight, and that's a big fight. And that's the kind of (expletive) I'm talking about; real fights, not funny fake fights."
Diaz may be contradicting himself here by saying "he's begging for no fight" but the UFC should be salivating at the very next opportunity to put these two in the cage.
2. Urijah Faber
Speaking of selling PPV's, a Urijah Faber fight could potentially be bigger than a Diaz bout, pitting good (Faber) vs evil (McG) rather than a Freddy vs Jason affair that the first pairing offers. The downside is, while "The California Kid" remains popular with fight fans, he is on the wrong side of 30 and hasn't beaten a big name in over four years.
3. Frankie Edgar
Edgar made his case for a title shot when he absolutely destroyed Chad Mendes at the TUF Finale. "The Answer" is a former lightweight champion known for his all-action style, which, while entertaining, could play well right into Conor Mcgregor's hands. Either way, Edgar is promised a shot at the 145-lb belt, so whenever Mcg decides to defend the featherweight belt, the New Jersey native is rght there waiting.
4. Rafael dos Anjos
Yep, Conor McGregor has big dreams and the 155-lb championship belt is one of them. Problem is, Rafael dos Anjos is wearing it firmly on his waist.
dos Anjos may be the least known among our crop but you can make an argument he is the toughest. The Brazilian has KOed Ben Henderson at UFN 42, dethroned Anthony Pettis at UFC 185 and stopped Donald Cerrone at UFC on Fox 17, showing he could neutralize three very dynamic striking machines. Will Conor McGregor be one of the victims down the line or is it the other way around? It all has the makings of a very exciting fight.
5. Khabib Nurmagomedov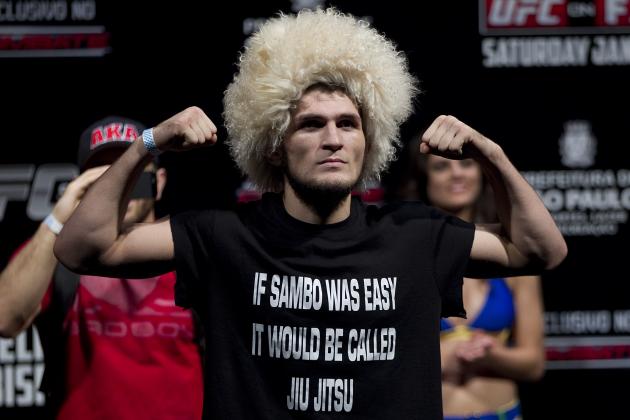 "The Eagle" is a threat to ANYONE in the lightweight division and holds a dominating win over the current 155-lb champion. His insane grappling skills are second to none and poses every sort of problem on the ground, but only has one knockout ever since he stepped foot in the UFC. Even so, Nurmagomedov is very good, even elite, at an area where McGregor likes the least so if their paths crossed, the Russian poses a very serious threat to the Irishman's current winning run.
RELATED IN THE SKYBOX…
---
---
Just an average Joe that prides about the fact that he played basketball on all three of the biggest island groups in the Philippines. Enjoys eating and 70s music as much as the next guy, but thinks there isn't a more delightful thing in the world than learning. For comments, reactions, suggestions, let Jan Rey know below.
Latest posts by Jan Obguia (see all)