31 Dec

If the NBA Had Year-End Awards, These Would Be Your Winners…
The NBA hands out its annual individual awards sometime in June of every year. But we don't have to wait for another six months to recognize the players and coaches who had a stellar 2015 year. So if the NBA handed out awards at the end of the calendar year, the year-end award winners of 2015 would be:
MVP
If you still don't believe in Stephen Curry, you'll be a believer at the end of this article. So where do we even start? Curry leads the NBA in scoring at 30.5 PPG, is 4th in steals at 2.17 SPG, 10th in assists at 6.4 APG, 4th in FT% at 90.2% and at 140 three pointers made in 30 games, has 50 more trifectas than his closest rival. If you're a fan of advanced statistics, then Curry's 32.09 PER is the highest in the history of the league and his 68% True Shooting Percentage is the highest of any player averaging more than 30 PPG.  And should he maintain his blistering pace of shooting three pointers, he'll likely end up with 377, breaking the record for the third time in the last four seasons. And yes, the Dubs are 29-1 with him playing. They lost to the Mavs on 12/20/15 with Curry sitting out the game with a leg injury. Need we say more? The game is changing and this man is the new standard in the game. MVP? Hands down, it's Steph Curry.
Sixth Man of The Year
Unlike the MVP race, this award has multiple players who deserve the nod. First is Victor Oladipo of the Orlando Magic who went from starter to 6th man as the season unfolded. But rather than worry about his status, Oladipo has embraced his new role and has flourished in it. Averaging 14.7 PPG, 4.18 RPG, 4.1 APG and 1.1 SPG, Oladipo has scored in double digits as a 6th man in all but one game. The Magic are 9-3 with him as 6th man and could be headed to the playoffs for the first time since 2012. Another solid pick for this award is Will Barton of the Denver Nuggets, whose 14.7 scoring average is a +8 points from last season. Barton also averages 5.7 rebounds, 2.1 assists and 1.2 steals per game which are all career highs. Unfortunately, we're giving out this award to Ryan Anderson of the Pelicans whose 17.6 PPG and 6.7 RPG are the highest among the NBA's sixth men. Anderson's been putting up starter numbers off the bench and is providing the Pelicans the well needed spark aside from Anthony Davis. Not as flashy as Oladipo or Barton but just as effective. Our 6th man for 2015 is Ryan Anderson of the New Orleans Pelicans.
Rookie of The Year
Karl Anthony Towns, DeAngelo Russell and Jahlil Okafor went 1-2-3 in the 2015 NBA draft so there's no reason to see these three names on top of the Rookies' statistical leaderboards. But the fourth pick in the draft, the one booed by the hometown fans on draft night, has been disrupting the leaderboards. #3 in Rookie scoring with 13.2 PPG, #2 in rebounds at 8.0 RPG and #1 in blocks at 2.03 BPG ( that's 6th in the entire NBA), Kristaps Porzingis has been one of the biggest surprises this season. The 7-3 Latvian big man has shown more promise than all of us expected. Not that the Knicks have suddenly become world beaters, but at 15-18, they are just 2 wins away from tying last season's dismal 17-65 record. Karl Anthony Towns is just as deserving to win this award and he may indeed be the winner come June. But at the end of 2015, it's Porzingis who's made more noise on and off the court.
Most Improved Player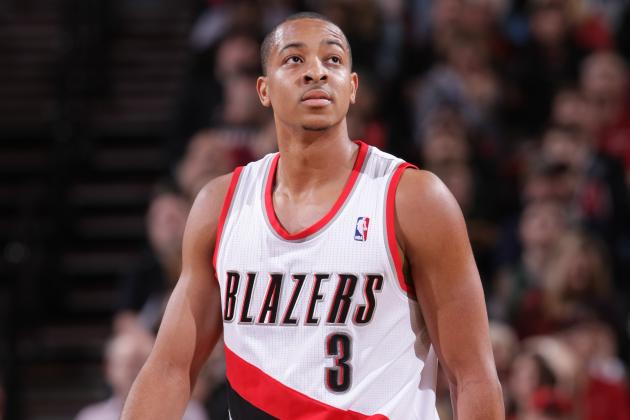 Traditionally, the winner of this award is the one who increases his scoring average from the previous season by a sizeable amount. Upon checking with stats, the last 10 MIP winners increased their scoring averages by at least 5 points vis-a-vis the previous season. So what if we say there's a kid out there who's currently topping his previous season scoring average by 13.3 PPG? Yes folks, that's the kind of improvement C.J. McCollum has been having this season. Okay so we knew he was good: he was the 10th pick in the 2013 draft and averaged 17 PPG in the first round of the playoffs last season. But who would expect that the Blazers would now have the 2nd best scoring backcourt in the league? I mean the Splash Brothers are a phenomenon but for McCollum to be averaging in the 20's at this stage of the season is incredible. And it's not just that C.J. is hoisting shots at will because his 43.8 FG% is 10th among NBA shooting guards while his 39.3 3FG% is 6th among his peers. Without a doubt, McCollum takes this award.
Coach of the Year
So what if we told you that our Coach of the Year winner isn't even one and has a 0-0 NBA coaching record on the NBA's official stat books? You know who we are talking about because his coaching run is one we've never seen before in the history of the NBA. Luke Walton deserves every credit for leading the Golden State Warriors to an NBA-best 29-2 start. Walton took over the coaching reigns from Steve Kerr who is still recovering from a back injury that's left him on the sidelines during this historic run by his team. Well you could say that Walton has the luxury of coaching a well-oiled fighting machine but whether you like it or not, he is the guy who's called the shots since this season started. Walton's good relationship with the players, excellent rotation and grace under pressure makes him a perfect coach elsewhere. And with Kerr slated to return as early as next week, Walton won't be there to finish the job which he started. But hey, he's always been a good team player and he'd gladly move out of the spotlight once Kerr is fine. But as for 2015, it was Luke Walton who steered the Warriors to the best start in NBA history.
RELATED IN THE SKYBOX…
---
---
I've always believed that it's never too late to chase your dreams. So here I am chasing mine- writing sports articles. It's pure passion, love for the sports and a unique way of expressing my thoughts.
Latest posts by Shane Acedera (see all)