15 Mar

Kobe Bryant VS LeBron James And The Rivalry That Never Was
Last Thursday at the Staples Centre was the final head to head meeting between Kobe Bryant and LeBron James.
It was the 22nd time these two superstars faced each other in the regular season and Lebron has won 17 of those game. That alone tells us that there is no rivalry between the two because it has been all LeBron in this match-up of two former high school phenoms.
Either Kobe or LeBron has played in each of the nine last NBA Finals. James reached the NBA Finals in each of the last five seasons. He also played in the 2007 NBA Finals, during his first tour of duty with the Cavs. On the other hand, Bryant led the Lakers to three straight NBA Finals from 2008-2010. But never in those nine years did they play against each other.
LeBron's Mea Culpa
There was a point in history where their paths almost crossed in the postseason. But LeBron James didn't keep his end of the bargain. It never happened then, and it won't happen now:
"I didn't hold up my end of the bargain in 2009 for the fans, for us, to meet in the Finals. I know the world wanted to see it. I wanted it, we wanted it. He held up his end and I didn't hold up my end, and I hate that. I hate that that didn't happen."
During the 2008-2009 season, the Cleveland Cavaliers finished with the NBA's best record at 66-16 while Bryant and the Lakers topped the Western Conference with an equally impressive 65-17 record. All signs pointed to a Kobe versus LeBron match-up in the Finals but in a shocking upset, the Orlando Magic beat the Cleveland Cavaliers 4-2 in the Eastern Conference Finals. The Lakers would go on to beat the Magic 4-1 in the Finals to win their first NBA title in the post-Shaquille O'Neal era.
With Bryant's Lakers officially out of the post-season this early, that playoff duel will never happen.
Recipe For A Great Rivalry
LeBron James entered the league in 2004, straight from high school. Eight year earlier, Kobe Bryant was drafted by the Los Anglees Lakers directly from Lower Merion High School. One year before Kobe was drafted, Kevin Garnett became the first high school star to go directly to the professional ranks. However, it was Bryant who set the bar high and it was LeBron who tried to better it.
While Bryant only has one MVP award, James won it four times. Bryant has been named to the All-NBA First Team 11 times. Despite starting out much later than Bryant, LeBron's been to that Mythical team a total of 9 times already. Both men each have two NBA Finals MVP trophy but Bryant has won more titles than LeBron 5-2. That number could have been closer at 4-3 had James and his Cavs made the finals in 2009.
Not A Killer Like Kobe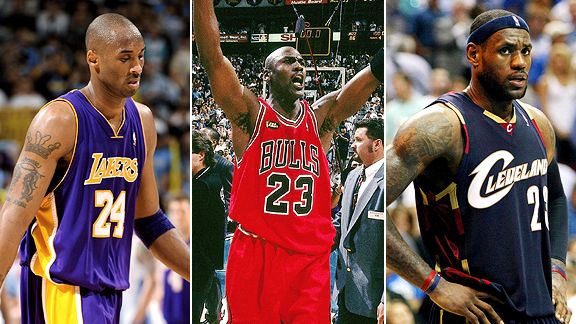 But while Kobe and LeBron are nearly similar in numbers, their means to reaching the end were entirely different. LeBron has always been criticised for not having the same killer instinct as Michael Jordan and Kobe Bryant. But James  told ESPN in 2013  that there are different ways to hunt:
"There are different ways to hunt. I watch the Discovery Channel all the time, and you look at all these animals in the wild. And they all hunt a different way to feed their families. They all kill a different way."
If Kobe and MJ always took the big shots to win big games, LeBron found his own ways to win by using his unique "hunting" skill set. He joined the Heat in 2010 and teamed up with Dwyane Wade and Chris Bosh to win back to back NBA titles in 2012 and 2013. Different strokes for different folks. Not always taking the last shot has never made LeBron lesser great than M.J. and Kobe. It set him apart.
The Last Ride
Their difference in approach was very evident during Thursday's final encounter. Kobe went at LeBron every time he had an opportunity to score. He finished with a Black Mamba night of 26 points on 11-26 shooting. James, on the other hand, had 24 points on 9-18 shooting. Both men finished with 5 rebounds but James had 7 total assists while Kobe only had 2 dimes. LeBron's Eastern Conference leading Cavs won the game 120-108 and that was the bigger number that mattered, especially for LeBron James.
Unfortunately, Thursday was the final time Kobe Bryant and LeBron James played against each other in the NBA courts. We could only wonder how they would have battled it out had they met in the NBA postseason. Because as Kobe Bryant himself said it: Rivalries are born in the postseason.
RELATED IN THE SKYBOX…
---
---
I've always believed that it's never too late to chase your dreams. So here I am chasing mine- writing sports articles. It's pure passion, love for the sports and a unique way of expressing my thoughts.
Latest posts by Shane Acedera (see all)