19 Feb

6 Scariest UFC Knockout Artists Today
Nothing excites fans of all levels more than watching a guy knocking another unconscious.
Personally, I prefer the grapplers and the science behind the submission game, but every once in a while, I still like scaring myself by watching these knockout artists in action. Some of them are very familiar names and have been knocking peoples heads off for decades but I swear any mortal will get a heart attack if they see any of these guys on the opposite end.
Here are the six UFC knockout artists that are guaranteed to give you the chills:
6. Robbie Lawler
Robbie is so scary that you would think he enjoys getting hit and being able to hit and knock people out in return. He once had an 11-fight knockout streak going and has compiled TWENTY KO's in TWENTY-SEVEN wins. Of course, fighting championship caliber fights descends the KO rate a little bit but Ruthless' modus operandum is the same: You make a mistake, you're going to pay for it with your face. And sometimes, like in Rory Macdonald's case, your nose.
5. Conor McGregor
Credit: Steve Marcus/Getty Images via ESPN
Love him or hate him, but the Notorious is one scary dude. Never mind the over-the-top, cartoonish trash talks, this guy is a fighting machine and he knows it. He has finished SIX of his SEVEN UFC opponents by knockout. It would seem like the guy sees everything in slow motion, allowing him to be fast, accurate, and powerful all at the same time. I believe somebody will expose his questionable ground game in the near future, but his precision and underrated power always makes him an intimidating force to be reckoned with.
4. Alistair Overeem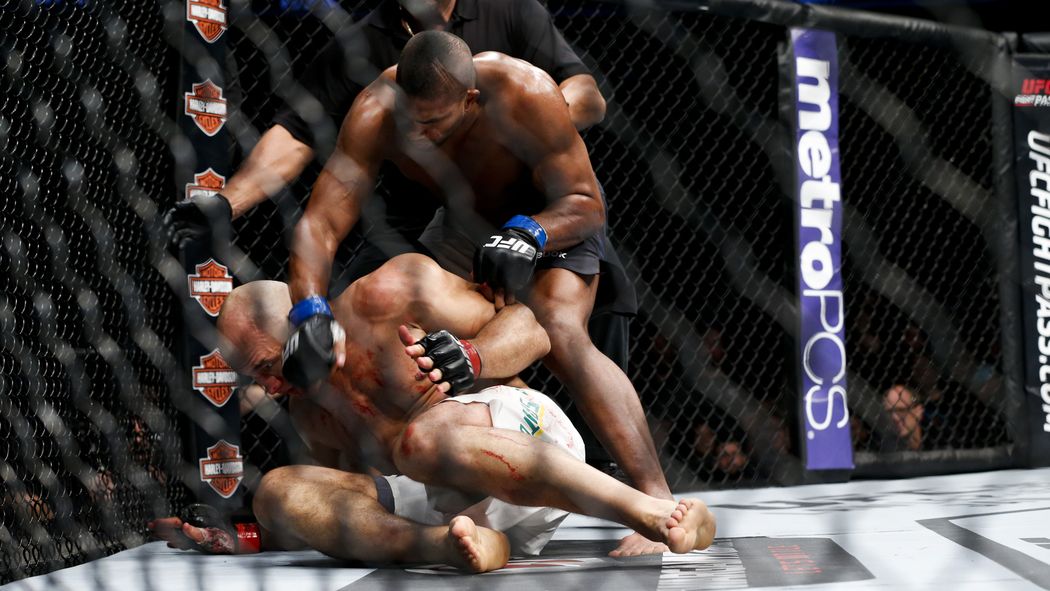 The Reem has been on the receiving end of brutal finishes in a span of NINETEEN months from 2013-2014. A little tweak to his game plan, however, and the hunted has become the hunter once again, and a very scary one at that. Overeem has knocked out Stefan Struve and fellow "executioner" Junior dos Santos and just to remind you how scary that is, only Cain Velasquez has squashed Cigano like that. Just to further highlight the contrast, unlike the Velasquez beating, Overeem did it in less time and with some crazy one-punch action that left JDS wondering where he was.
3. Mark Hunt
How does Mark Hunt, UFC (Interim) Heavyweight Champion sound? Crazy as that is, the Super Samoan almost did it by knocking down now-heavyweight champ Fabricio Werdum twice early at UFC 180. He then succumbed to a crazier flying knee by Vai Cavalo, who was obviously in better shape and the better overall fighter. However, Hunt made his point loud and clear: At 41 years old, without a gas tank and armed only with those massive fists, he is still a threat to any heavyweight on the planet and always will be.
He is the first to knock out Cheick Kongo and the only one to deal a loss of that kind to Roy "Big Country" Nelson, something that even Junior dos Santos could not do.
2. Vitor Belfort
You can say anything you want about Vitor Belfort but dude is flat out scary. He likes to keep the pace fast especially in the early goings and will not stop if he smells even a hint of blood. His headhunting ways go way back to UFC 12 and his PRIDE days but his most impressive finish in recent memory though, was the ROUND ONE spinning heel kick KO of now-UFC middleweight champion Luke Rockhold.
Rockhold still calls that one a fluke, but I have a better adjective for that one: TERRIFYING.
1. Anthony Johnson
NO one can honestly say they're better moving up in weight but that's what exactly happened in the case of Anthony Johnson. Rumble was a heavyweight trying to be 170 and that apparently hurt him more than he did his opponents, if that was even possible. TWO years after that failed attempt at welterweight, Johnson returned to the UFC as a Light Heavyweight with a vengeance. His most impressive knockout feat thus far is the destruction of Alexander Gustafsson in Sweden, something that no man has ever done before until AJ came.
If one of those limbs hit you even with half power, this guy will end your night quickly. That happens more often than not, so just pray the ref is fast enough to get between you and Johnson before he lands one of those free bombs like the one on top.
RELATED IN THE SKYBOX…
---
---
Just an average Joe that prides about the fact that he played basketball on all three of the biggest island groups in the Philippines. Enjoys eating and 70s music as much as the next guy, but thinks there isn't a more delightful thing in the world than learning. For comments, reactions, suggestions, let Jan Rey know below.
Latest posts by Jan Obguia (see all)